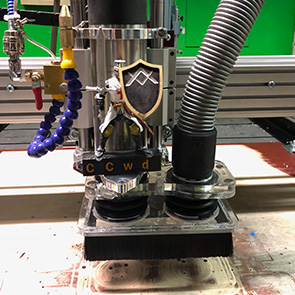 Eric Jacobsson - Floating Dustshoe
For this month's customer case study, we take you into the working world of Swedish CNC hobbyist Eric Jacobsson. A full-time painter by trade, Eric has been successfully juggling full time employment with making time for his passion for CNC and building a rapidly growing following on his YouTube channel CNCSwede for the last 7 months.
As a huge classic motor enthusiast Eric has access to a range of classic vehicles from Dodge Challenger -71's to Harley Davidsons and Triumphs. Eric's passion for CNC began when he realised he could make replacement car parts more efficiently using a CNC...
I'm a hobbyist Mechanic and Woodworker. Sometimes our old vehicles need parts that are not available on the market. When that happens, I make them myself on the CNC. The main reason that I bought a CNC were the YouTube channels that I follow. Many of the woodworking YouTubers have a CNC as a complement to their machine workshop. I do this just for fun. I bought my Raw 1.5 CNC 990x990mm CNC in June 2017 from a Swedish company RAW CNC http://rawcnc.com. I heard about CNC machines when I was younger, but it never was an option for me to buy one because they were so expensive back then. I have added some customisations to my CNC machine to help me work more efficiently. I added a laser module and a USB microscope for easy zeroing of X and Y as seen in my latest YouTube video [https://youtu.be/YsNfdNFIc7s]. A coolant lubrication spray system for metal milling and added the Floating Dust Shoe of course.
Now that Eric is set with his fully customized CNC machine he now needed a strong piece of software so he could mill his projects. This is where he found Vectric...
Once I had my machine I needed to find some software to create and make my projects with. After a little while of searching I found Vectric's VCarve Desktop product. First of all it was the price that caught my eye, as a hobbyist it was great to get a low cost product with such a large number of features that I needed. The next thing is that Vectric has a very good and fun community. Vectric has many good and educational video tutorials and an easy interface that is fast to learn. I also like the ability to upgrade the software regularly to get new features at an affordable price. My favourite thing about VCarve is that what you see is what you get. The program is fantastic for showing a preview of your part, reducing error when it's actually cut.
With everything he needs to design and cut his projects Eric has been busy crafting many fantastic parts. One of which was the project that caught our eye - The Floating Dust Shoe.
Dust shoes are something all CNC'ers are making and have use of. I searched the net to find a dust shoe that should cover my needs, but could not find that. First of all, I wanted a shoe that is easy to remove and follow the surface for best dust extraction. Some people have solved that by adding long brushes to their shoes. That solution wasn't good enough for me because the brush will then suck in to the shoe and the function is lost.
To make my own dust shoe I used 10mm acrylic that I got from a friend that has a sign making company. The rest I bought in local stores. I have linked these in my Video on YouTube and the keywords to these on Ebay and Amazon. There was many great features that helped me along the way, but the stand out feature for me was the Smart Snapping tool. Because the fit and measurements needed to be very precise the Smart snapping tool let me draw out quickly and very accurately everything I needed.
I enjoyed the whole thing. I bought my machine in June 2017 and before that I just heard about them. I bought VCarve November 24th 2017 so it's still very new to me and I'm having a lot of fun. The best of all is the credits that I got from around the world on my Youtube Channel, CNCSwede.
It's clear to see that Eric is taking full advantage of his new-found love for CNC machining and VCarve Desktop. With a rapidly growing following on his YouTube channel it is obvious that he has been able to pick up techniques and skills quickly using the Vectric tutorial videos and implement them on to his own projects. We would like to use this opportunity to thank Eric for taking the time out and tell us about his story and sharing his work with our Vectric family.
If you would like to have a go at making Eric's Floating Dust Shoe project you can download the project now.