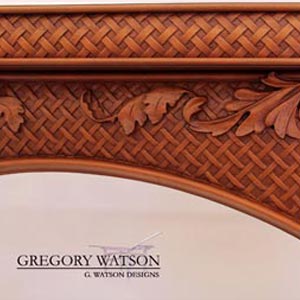 G. Watson Designs
G. Watson Designs, based in Northern California offer turnkey design, fabrication, finish and installation services to clients looking for exceptional millwork, cabinets, and furniture. The founder of the company, Gregory Watson, has been in business since 1972. In that time he has built an enviable portfolio and a good reputation for producing high quality work.
We were first made aware of Greg's fantastic work at the IWF show last year when Robert "Router Bob" Alsup from Laguna Tools showed us a promotional video showcasing how Greg had been using their tools in his business. We were immediately impressed and pleased to see that Vectric's Aspire and Vector Art 3D are both part of his process. Earlier this year Greg very kindly took to the time to talk with us about how the technology fits in with his traditional, high quality design and manufacture and how the combination allows him to offer his clients the best possible options.
Greg had been watching the evolution of CNC technology for some time and had observed how the cost of CNC technology was coming down while the quality and ease of use was improving. Just over 2 years ago he decided to invest in a Laguna 5' x 10' CNC Router and a Laguna CNC Lathe. He also chose Aspire software from Vectric to create the toolpaths that run the machines.
We started by asking Greg to explain exactly how the software is used by them and fits into their process, he said,"Aspire is used to generate the toolpaths for the CNC for panel processing our cabinet parts as well as to model dimensional carved components and create 2D and 3D toolpaths for other decorative elements."He continued, "We do 95% of the carving on the CNC, this allows the part to be quickly and accurately machined and then we finish the last part by hand. This means that the customer gets the detail and finish of a hand carving but the accuracy and repeatability of the software and CNC."
Next we asked about how he had found the process for learning to use Aspire, Greg commented,"For many years I have used software for drafting, modeling, web design, and photo editing. This basic foundation of computer knowledge and skill made learning the program relatively easy. The Video Tutorials that come with Aspire are great!"
In addition to designing carved parts from scratch in Aspire, Greg also makes use of the dimensional CNC clipart available from Vector Art 3D to add decoration and detail to his designs. We asked him to explain how using clip art fits in with the idea of offering a custom design to his clients, "We find the rich variety of models is an excellent short-cut to incorporating carving into our woodwork. The ability to shape, bend, and scale these carvings, as well as the ability to clip, cut, copy and paste parts from different models gives us the capability to produce fully customized objects from the library of components. This flexibility allows us to create carvings that complement the overall layout and aesthetic we are creating for the customer."
Looking at the amazing work Greg and his team have produced its clear that the combination of good design and traditional skills can be mixed with technology. At Vectric we often hear that many professional woodworkers think that adding a CNC and CAD/CAM software will diminish their craftsmanship and be too difficult to learn. There probably was a time when these points had some validity, but in the last few years good CNC Software solutions have become much more affordable, easier to use, and no longer require you to compromise on the quality of what you are delivering to your customers. According to Greg this idea that the CNC will compromise craftsmanship is incorrect. He has found that adding the technology has actually complemented the shop's traditional skills. Elaborating on this idea he said, "The software and clipart have created a short cut for us to the incorporation of complex objects in a design. While we have some computer controlled tools, we are none the less still a traditional bench shop. The technology does not diminish the need for skilled cabinetmakers; it actually leverages their abilities in much the same way a program like PhotoShop does for a professional photographer!"
We would like to thank Greg for taking the time to share his experience with us, its very interesting to see how the CNC and software can become part of the process for producing such high quality work and how they are used to do the things they are good at, in amongst all the traditional skills and tools. You can see more of Greg's excellent work on his website: http://www.gwatsondesigns.com. All images courtesy and copyright Greg Watson, G. Watson Designs.