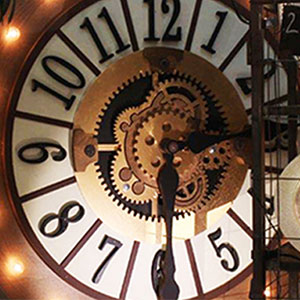 John Crosetti
At Vectric we love to browse forums and see what the Vectric community is making and this is exactly how we stumbled upon the work of John Crosetti. Whilst rummaging through the camheads forum (http://www.camheads.org/) we came across a great fully functional geared clock which was made using Aspire. Really impressed by this, we contacted John to see if he would let us showcase such a creative project, and he happily said yes. But before we find out more about John's projects we wanted to ask him about his background and how he got into the world of CNC machining…
"As a young man I was an auto mechanic. I was injured & could not work on cars any longer. While recovering I became interested in computer graphics. I did freelance work, web pages, 3D modelling & stuff like that. When I was hired at town & country these things I've learned over the years came together and I use them daily."
"I started working at town & country event rentals (http://www.tacer.biz/) when it opened its doors in 2005. We are in the business of providing the finest in special event furnishings and services to the Southern California market and operates out of its 175,00 square foot home office and distribution center in Van Nuys, California with additional show rooms in Pasadena, CA and Santa Barbara, CA.
"With a staff of more the 450 event pros, town & country has earned an impressive reputation as the "go to" company for L.A.'s top event planners, wedding consultants, caterers and venues earning its number three ranking for event rental companies in the US according to trade publication, special events magazine. Town & country is called upon to provide its broad spectrum of products and services for events that include, The Golden Globes, The Grammy Awards, The Academy Awards, major movie premiers and industry events as well as notable social and fund raising "galas" along with exquisite weddings and more."
"I was fascinated by the beauty and variety of work coming off CNC machines. I discovered that a lot of people build their own CNC's and I was confident that I could tackle a project of this magnitude."
"My main job here is to draw up the layouts of the events. I also take care of the graphic needs & run the CNC. I used to be the only guy doing these things. As town & country has grown, I could not keep doing these things all by myself. Our IT guy, Munjal, has extensive knowledge of graphics & printing so he helps me with that & I've taught a bright young man Phillipe Jr. How to operate the CNC. Together we make a great team. My eyes still light up when we get a new CNC project. It's my favourite part about my job here."
"I remember exactly when I first discovered a CNC machine. It was about 3 years ago when my boss said, "look at what I bought… learn how to use it". He saw a CNC demonstration at a trade show and was fascinated at what it could do & do for his business, so he bought a 4'x8' cnc of an overseas make. As the company's cad & graphics man I was the choice to learn how to program & run it so I jumped at the chance. Having previous knowledge of cad, vectors & such it was a perfect fit. The ease of Aspire moved things along nice & quick. That CNC machine turned out to be a nightmare of problems so we looked for an alternative and now we have a camaster stinger 3 and it has been just great."
Having been thrown into the CNC world at the deep end, it was up to John to start learning fast and as you can tell he took to it like a duck to water. As time progressed it was clear that John had a new found passion, and definitely skill for CNC machining, so much so he went out and purchased his own with some software…
"I love the CNC process so much I just had to get one for myself. So I bought a little CNC shark for my garage to tinker around with on the weekends making things for friends or myself… just having fun. Of course I want a lager machine now."
"I found Vectric by pure luck! Well, I just chose blindly & happened to make a great choice. My boss bought the 1st CNC spur of the moment. It was a surprise to me so I had limited time to review different cad/cam packages. Plus at the time I knew absolutely zero about CNC's. To be honest I didn't have time to research about things such as software and combine that with my total ignorance about the subject I took a shot in the dark and my shot hit the mark. I wish I had something better to say, but that's how it went. I've always used Vectric at work & home so I don't have anything to compare it too. It always does what I need."
So with plenty of hands on experience with the cnc machine and Aspire, it's not a surprise that John has been making some really show stopping projects. Like John said above, having his own CNC at home allows him to create projects on the weekends and in other spare time to hone in his craft. So let's take a look at some of the things that caught our eye…
"We had an event that the customer wanted themed after a movie. A big clock was featured in the movie. So I came up with this prop loosely based on the movie clock."
"As I remember it all went pretty smooth from design to cut, so probably a day or 2 to play around with ideas (time in between my main job here, event diagramming) cut time was a just a couple hours, using ¾" ply wood. Finish work I don't do. I design & cut then hand it off to other departments who do the paint, stain & lights."
"I have so many projects on the go right now. For instance, I am cutting out the letters "LOVE" for a table. It's the trendy thing for weddings. I like them, I can see us making tables like this for various venues, last names & so on. I am always cutting either letters or shapes to make into marquee."
It's evident from the pictures above that John likes to work on a wide variety of projects, which is testament to his creative flair and skill using the software and the CNC. It's great to see a combination of 2D and 3D parts too including some content from our design & make website – http://www.designandmake.com. We would like to take this opportunity to thank John for taking the time out to write up this article and sharing his excellent work with us and we look forward to seeing more of his finished parts in the future.