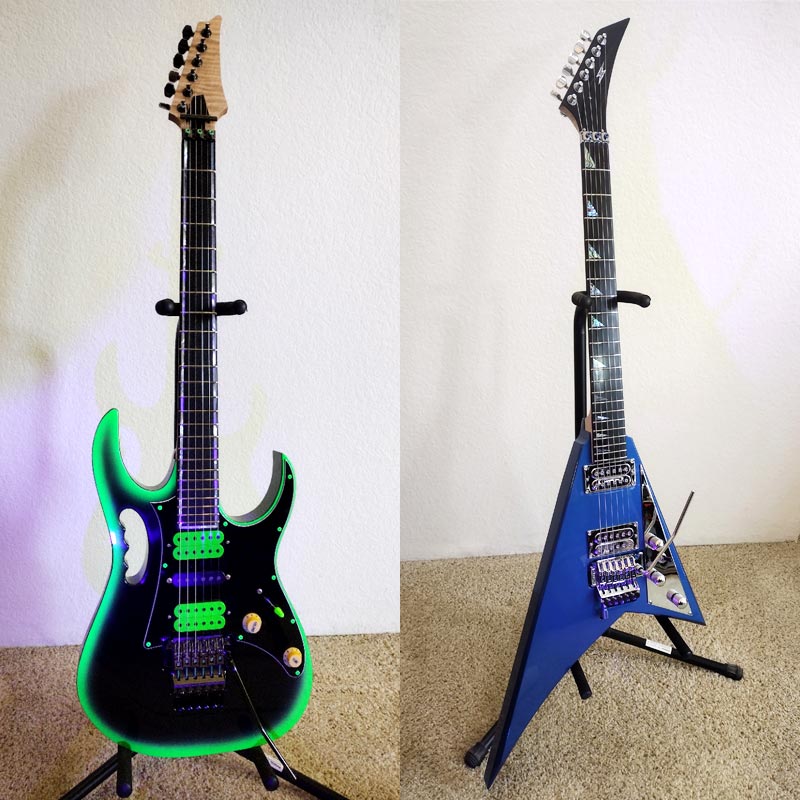 Woodbotics - Custom Guitars
Don't we all love the hypnotic sound of music to help raise our mood, reduce stress and feed the soul. Here at Vectric we have lots of musical makers so it's no surprise that we got really intrigued by Woodbotics who are making amazing custom guitars for their clients. It's a real talent to be able to play music but the expertise needed to make the instruments in the first place is off the scale amazing. This month we spoke to Scott Cunningham at Woodbotics who manages to do just that teaming his two passions playing music and making, so let's hear about Scott's love of guitars and how he combines this with his brilliant woodworking skills.
Hi Scott, thanks so much for speaking to us. Let's start by telling us a bit about yourself and when you started Woodbotics.
I worked for 22 years in various shops making cabinets, furniture and architectural millwork pieces then after obtaining a C6 contractor's license, I focused on cabinet installation and on site mill work for the next 19 years. It's been great to spend time honing my skills to what I enjoy most, so in 2011 I decided to take the plunge by starting my own business specializing in CNC woodwork and that's how Woodbotics came about! I was granted a trademark on the name which was created to emphasize robotic woodworking, and I continue to build the company.
When did you first start your love of woodworking and CNC, and what was your first setup?
Well I started woodworking around 9 years old just making kids stuff like skateboards and tree forts then I realized I was really proficient so that progressed into a paid after-school job when I was 15 on a residential site working on household carpentry jobs. After 6 years of college training, I returned to the woodworking field to pursue fine working and that's when the fun started. I built my first CNC from scratch to learn everything I could before purchasing my second CNC machine from K2 CNC that was built according to my needs. I never looked back and was hooked on CNC machines! I'm onto my third CNC and it's on another level; industrial quality with a high end controller and auto tool changer! Visit my YouTube channel to see it in action.
Wow that's pretty cool. CNC is definitely infectious so Scott when did you add Vectric software and how has VCarve helped you get into the world of custom woodworking?
I have been using Vectric software for over 10 years now and VCarve Pro has enabled me to create anything I can dream up. It is by far the most intuitive software I use for creating complex parts because it simplifies what can be a difficult process to go from design to polished toolpaths. The most important part for me is being able to proof check jobs by running simulations within the software to assure perfect results on the CNC, which also reduces waste.
It's great to see how versatile you are adapting your skills from fine woodworking and cabinet-making to producing these amazing electric guitars. How did that change come about and when did you start using your skills to make custom instruments and components?
Years ago I had a lightbulb moment and wondered "why am I not making guitars?". I've been playing guitar longer than I've been a woodworker so it seemed like it was meant to be. Building guitars is an amazing process and nothing is more satisfying than building one and playing it for the first time. It has taken some time for me to acquire all of the specialist tools to aid in the process of building these fine instruments but nothing compares to the CNC machine and how its automated some of the processes and helped me take my projects to another level.
It's great to hear the rock and blues styles soundtrack on your videos. What are your musical influences and how has this inspired your guitar making?
I'm heavily influenced from the 80's rock scene when I'm playing guitar but I like to think I'm well rounded and enjoy all genres of music. If the music can move me one way or another, I'll come back for more but most of my inspiration comes from me pushing myself to make the next guitar better than the last one.
Your maple guitar is really impressive. What are your favorite materials to work with and how do you source them?
I enjoy working with the exotics and I'm always looking for unique grain patterns. Book matched flame and quilted maple always looks amazing but I try to source different variations like tubular quilted grain patterns. I search the web for online luthier wood retailers but have also had great results from eBay sellers.
It must be exciting experimenting with different woods and waiting to hear what exotics sound like. How did you come up with each guitar concept?
I've used online sources for guitar vectors that can be imported really easily into VCarve where I will make changes as needed to refine the designs. That's a great way to start and lately, I've been working on original designs that I will prototype and refine as needed. Personalization and custom made is what drives most enthusiasts, and I've been approached by potential customers to build guitars based on photos of past instruments and the Woodbotics YouTube channel. It's just great to be a part of the rarity value by recreating unique heritage instruments for fellow musicians that you would never find available off the shelf.
Guiding us through the process, tell us how your guitars start their journey.
I often import DWG files and vectors into VCarve and use the node editing function, among others, to refine designs. I've also started designs from scratch in VCarve. Both methods work well. I have lots of CAD experience so I find it easy to achieve the results I'm looking for. I can't say enough how valuable the simulation within the VCarve software is in making sure parts will be machined properly. Some wood is very expensive so I need to avoid mistakes and costly off cuts.
Once I'm happy with the design, I machine the instrument body, neck and fretboard on the CNC to start. Check fitment and proceed to lots of handwork. I enjoy doing all of the inlays by hand. As the guitar is being built, refinements are made with various hand tools and lots of sanding. I will complete a guitar and play it, check for anything that needs additional work and then break down the guitar and prep for finish. I tend to take my time and a guitar can take from 4 to 12 weeks to complete depending on the design and my schedule.
That's definitely a labor of love and a lot of fun getting to test the results. Do you prefer any type of CNC to cut your work?
My latest CNC machine was custom built for me by Velox CNC. It's a 4 axis machine with a 14" z axis and a 4' x 6' bed size. 7hp Italian ATC spindle. I focus on the simulation after I create the toolpaths as I'm always trying to save time and I tend to use large bits that can remove material quickly. I look at the tool manufacturers charts for recommended feeds and speeds and adjust as needed depending on the quality of the cut and how the tool sounds in operation.
Reducing machining time and improving efficiency means more time fine tuning and playing! Is there anything you have adapted or would do differently now after producing your first guitar?
Absolutely; I'm always trying to improve my skills. After creating toolpaths and seeing the results coming off of the machine, I make adjustments to save time. I look a the quality of the parts and adjust toolpaths as needed. There is a trade off between quality and speed so I may change tooling to create parts faster knowing some post processing like sanding or hand tool work can give excellent results while cutting down on machine time.
Do you have any top tips or tricks for other Vectric makers starting out in music making?
Just jump in and know that the first instrument will not be your best work. It's a learning experience and with every mistake you will gain valuable wisdom for the next instrument. Enjoy the process and know that an instrument doesn't need to be super fancy to play well. Focus on the basics and add the embellishments as you gain experience. YouTube is a valuable resource to get started and watch maker videos.
Thank you so much Scott. We can't wait to hear more about Scott's work as he grows into an accomplished luthier. Check out his guitars in the project gallery and watch his videos over at Woodbotics TV: https://www.youtube.com/@woodboticstv6830/videos
Website: http://www.woodbotics.com