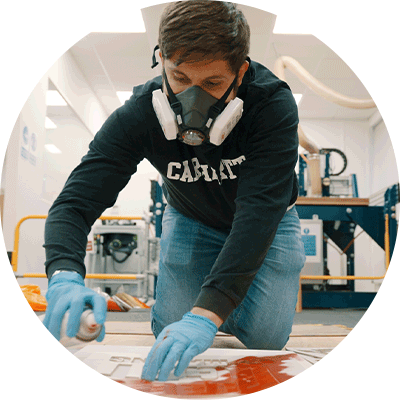 CNC Stencil Art
Welcome to the Labs sessions! I'm Olly, a web developer for Vectric. I also love to make and I am here to provide you with a FREE monthly project that you can download and cut for yourself!
Each project comes with its own video for you to watch that tells the story of what I am making from start to finish, including the technical software footage, machining the parts in the Labs, and finishing the project. I have also thrown in a few tips in based on my experience! We would love to see what you turned this project into so download the files from your V&CO account then share what you've made on the Vectric Forum!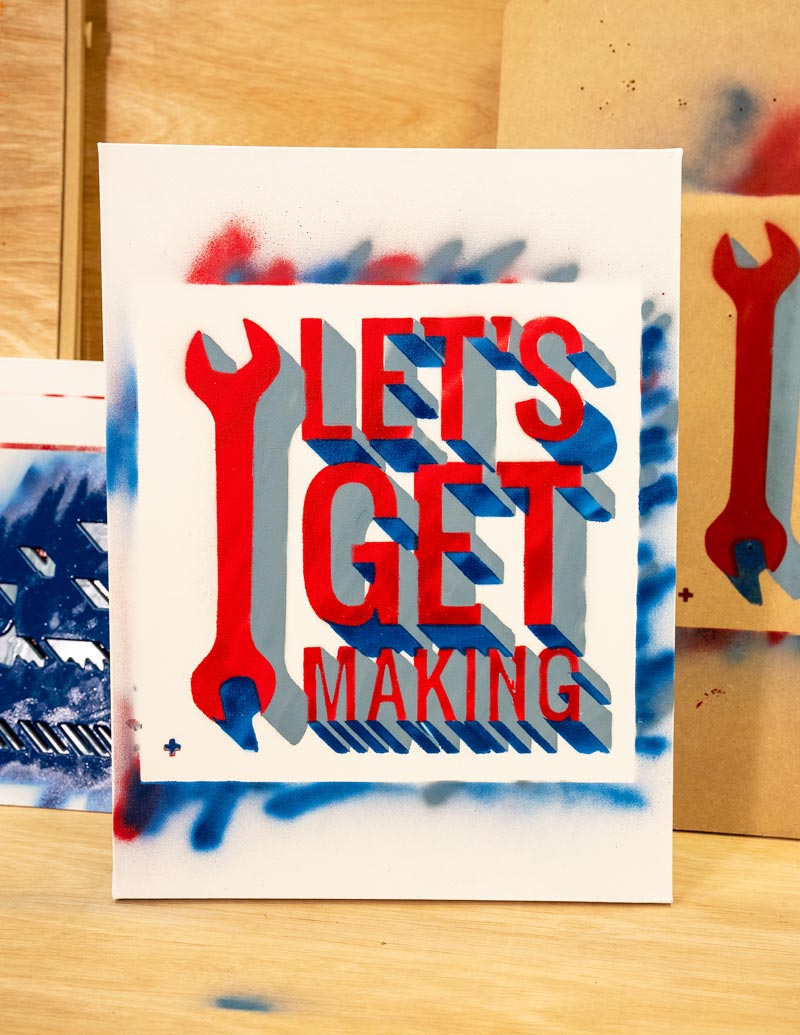 In this month's "In The Labs" project, Olly shows us how to design and make an inspirational 'Let's Get Making' 3D effect stencil kit. This multi-layer stencil kit uses Cut2D to give you the tools and concepts to make your own street art stencil for spraying onto canvas, clothing, walls or wood, in the workshop, on spoil boards or at a local event. Whether it's wall art or wear art, get to grips with sprays and stencils and give your projects the graffiti art touch.
Olly will show you how he quickly makes this project from scratch, drawing the letters for his message individually using Cut2D. To create the spanner he downloads an image and traces over the bitmap to create vectors, using the snipping tool and node editing to delete overlaps. He then splits the design into layers for each color pallet and uses a piece of MDF to machine each stencil using profile machining with a 3mm v-bit tool. After sanding down the corners of each letter, Olly gets to grips with his sprays and stencils giving some upcycled wood and canvas his unique artistic touch. Get experimental and step outside the box to see how easy it is to use your CNC to create fantastic art projects. Find out how to create this FREE project and turn something you feel passionate about from 2D into super hot 3D art using just a font and an image.
Whatever your artistic style, try out one of the projects for yourself then share your creative inspiration on the Vectric Forum or tag us on our socials.
Happy Making!
Which Vectric software do I need to be able to open the free project files?





Versions 11.5+ of the software
We've recently updated your V&CO portal account to include all of the free content available to you in one place. To download the free project files and the full instructions for this project or to take a look at all of the other free content available to you simply login to your V&CO account below: