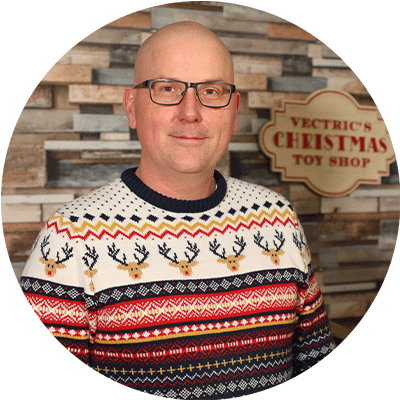 Spiro Drawing Board
Each year we release a selection of festive free projects to give you access to some CNC gift and decoration ideas ready for Christmas.
After what has been an incredibly difficult two years for many households, we would like to extend the sentiment of our usual festive projects to those in need of some extra kindness this Christmas. With that in mind, the Vectric elves have been busy in the workshop and we have launched the Vectric Christmas Toy Shop.
This year we have created six free project files, all of which are all compatible with our free trial software meaning they can be machined by anyone with a CNC machine around the world. All of the projects will be gender-neutral toys aimed at a variety of ages.
Join us to spread some kindness this Christmas and gift a unique toy you've made to someone who needs it most. Tag us on our social channels, use the #kindnessthischristmas or post your project on the Vectric forum so we can see how yours turned out.
Stay safe & Merry Christmas
From Beki, Todd, and Everyone at Vectric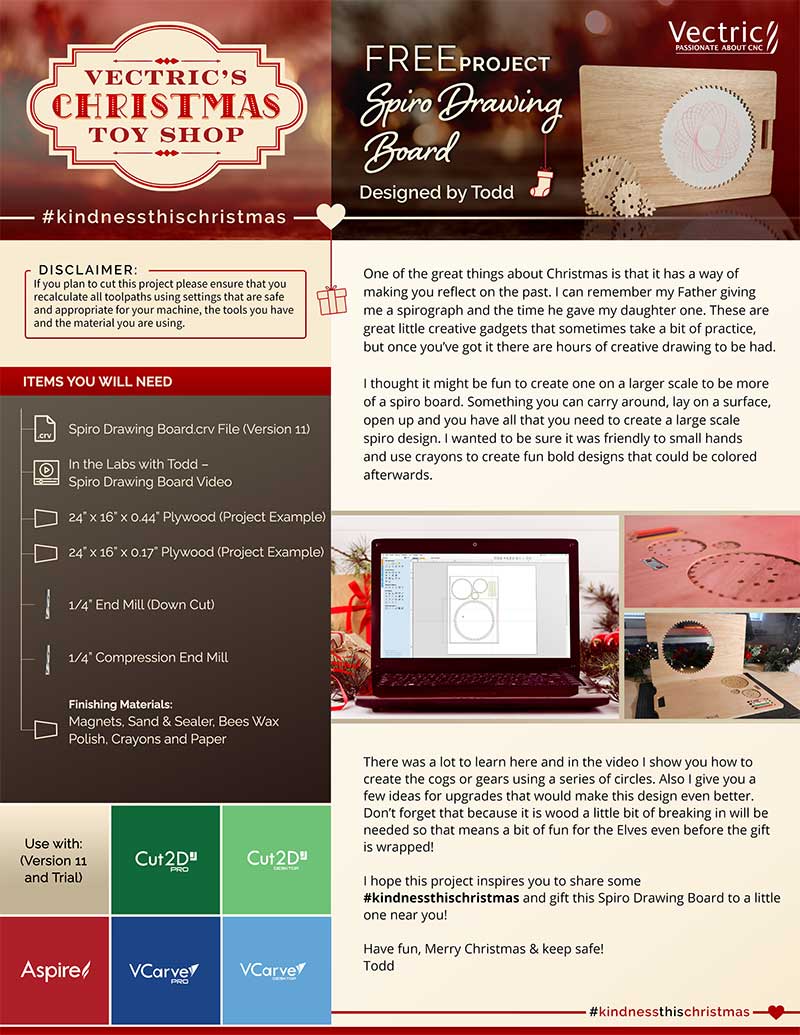 One of the great things about Christmas is that it has a way of making you reflect on the past. I can remember my father giving me a spirograph and the time he gave my daughter one. These are great little creative gadgets that sometimes take a bit of practice, but once you've got it there are hours of creative drawing to be had.
I thought it might be fun to create one on a larger scale to be more of a spiro board. Something you can carry around, lay on a surface, open up and you have all that you need to create a large-scale spiro design. I wanted to be sure it was friendly to small hands and use crayons to create fun bold designs that could be colored afterwards.
There was a lot to learn here and in the video I show you how to create the cogs or gears using a series of circles. Also, I give you a few ideas for upgrades that would make this design even better. Don't forget that because it is wood a little bit of breaking in will be needed so that means a bit of fun for the Elves even before the gift is wrapped!
I hope this project inspires you to share some #kindnessthischristmas and gift this Spiro Drawing Board to a little one near you!
Have fun, Merry Christmas & keep safe!
Todd
Which Vectric software do I need to be able to open the free project files?





Versions 11+ of the software
We've recently updated your V&CO portal account to include all of the free content available to you in one place. To download the free project files and the full instructions for this project or to take a look at all of the other free content available to you simply login to your V&CO account below: