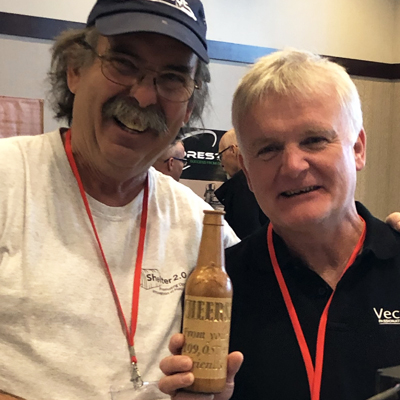 Bill Young's Beer Bottle
Anyone that's used any of the Vectric software…Aspire, VCarve Pro, PhotoVCarve…is familiar with Brian Moran. He and Tony left Delcam with a vision to make CNC accessible to all. I certainly couldn't do what I do now without Vectric software and the hard work that Brian has put in, and am sure that most others feel the same.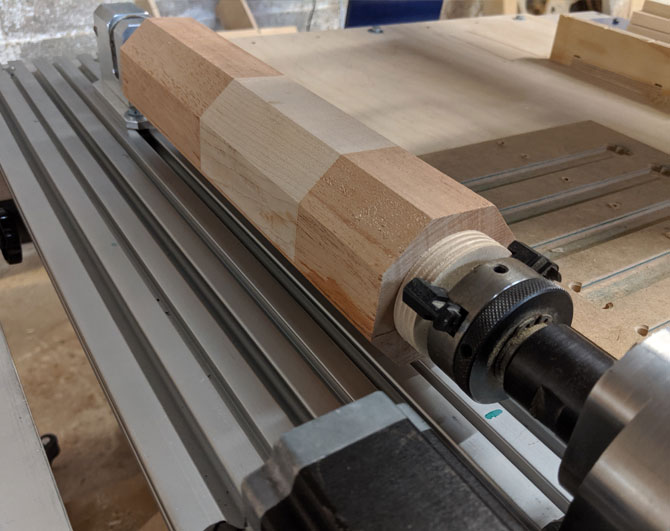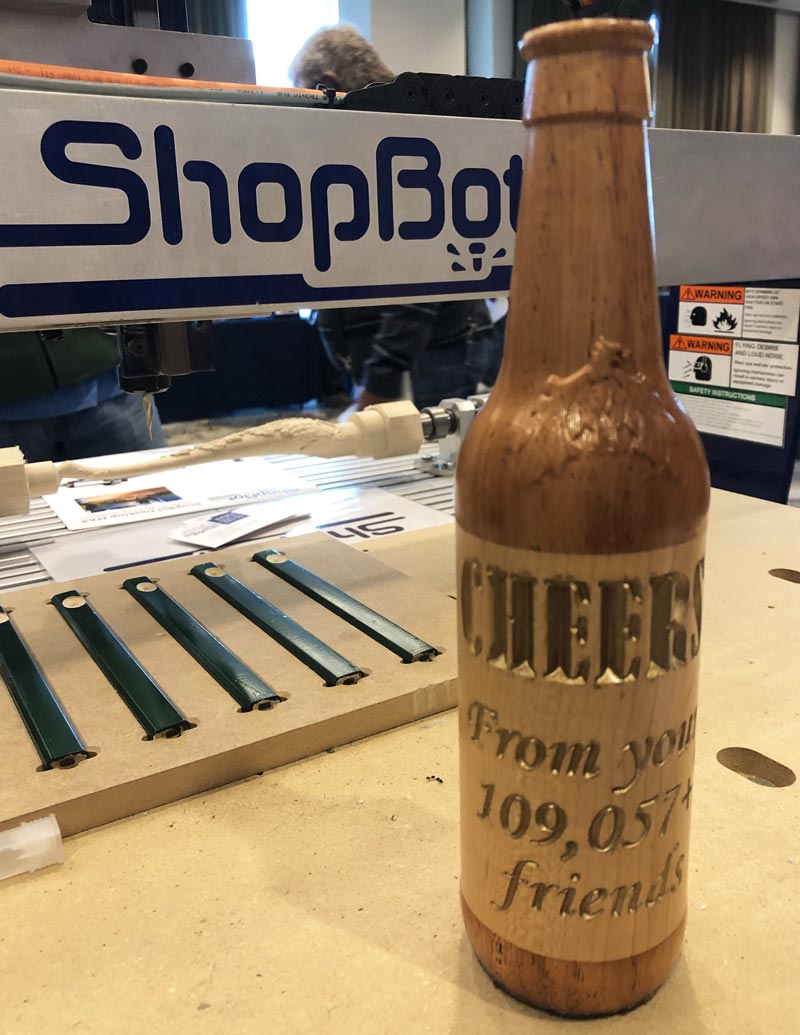 So when Stephanie Downing, Vectric's head of Marketing, asked me if I would make a gift for Brian and present it to him at the User Group in Denver, I was both honored and nervous. I'm functionally two dimensional and knew that I couldn't do a fancy 3d-sculpted plaque, but had recently been exploring the new rotary features and had begun to experiment a bit with CNC turning. Maybe I could come up with something interesting?
Along with writing software, Brian has 2 other passions…cars and beer! I couldn't think of anything related to cars that he didn't already have…he owns 13 cars at last count! But maybe something beer related might be fitting?
My recent work with Indexer turning on my ShopBot Max made me think that a wooden beer bottle might be something he would appreciate, but I didn't want to just turn a bottle shape…I could have done that on my lathe. I wanted to make something personal and use some of my new but very limited 3d chops.
My first stop was at a wholesale bottle and jar business right down the road from my shop. I told the owner what I had in mind and asked him for the "prettiest" beer bottle he sold. I borrowed one out of a case, measured it as accurately as I could to create a 2d profile that I could use to create my 3d model, and returned the bottle to him.
It was important to make the bottle as beer bottle-ish as I could, so there needed to be some contrast between the "bottle" and the "label". I had some African Mahogany that would work well for the bottle, and some Maple that would be perfect for the label section. All I had to do was to cut the parts to length and glue it all together.
The last step in preparing the bank was to cut it to size, trim the edges to make it "eight-sided" to reduce the amount of material that had to be remove. The blank was ready…now for the hard part!
I needed Aspire to create the 3d model of the bottle, and started by creating a 2-rail sweep using the half bottle that I had created as the profile and the rails that were generated when creating a Rotary file in Aspire or VCarve. I wanted a bit of decoration above the "label", and found a flourish I liked in the free clip art. I also wanted an "Established by" date on the bottle to show when Vectric was founded, so sized a raised "Est 2005" so that it wrapped around the bottom of the back of the bottle. A bit of V-carved text on the label and the file was done and ready to toolpath.
I wanted to preserve much of the detail in the flourish and Established date so decided to do the finish cut with a 1/16" tapered ballnose bit, but a 1/4" straight ballnose was fine for the roughing pass. A 90 deg v-bit was just right for the text in the label.
After all this 3d modeling, the cutting was a snap! My 8-sided blank couldn't be held in my 3-jaw chuck so I attached a 2" plywood disk to hold it in the headstock.
The one thing I had to be careful of was to make sure that I had accurately zeroed all 4 axis. The rotation was particularly important because I wanted the label to be centered in the bottle, with an equal border on either side of the v-carved text.
The first toolpath…the roughing one…ran with the 1/4" ballnose, then changed to the V-bit to cut the label text. Finally I switched to the 1/16" tapered ballnose and cleaned it all up. A quick trip to the bandsaw removed the "tabs" that held the bottle in the blank, and then to a disk sander to remove the angled ends left by the tapered ballnose's bevel. Once the cutting was done, the only thing left was the finishing. Four coats of Polyurethane sealed the surface enough to paint the letters with a gold paint-pen without bleeding, and two more coats to make it look just right!
I wasn't sure how Brian would feel about getting an un-drinkable beer, but he seemed to like it just fine!
The files for Brian's un-drinkable beer can be downloaded in both Aspire and VCarvePro V10 formats. If you're working in VCarve, I've also included an stl of the bottle that I exported from Aspire, that you can embellish with your own text in VCarve.
Many many thanks to Beki Jeremy for all her help in cleaning up my ugly 3d model and gently leading me through the 3d world. It just proves that with great software and support, anyone can be successful!
which Vectric software do i need to be able to open the free project files?



Versions 10+ of the software
We've recently updated your V&CO portal account to include all of the free content available to you in one place. To download the free project files and the full instructions for this project or to take a look at all of the other free content available to you simply login to your V&CO account below: