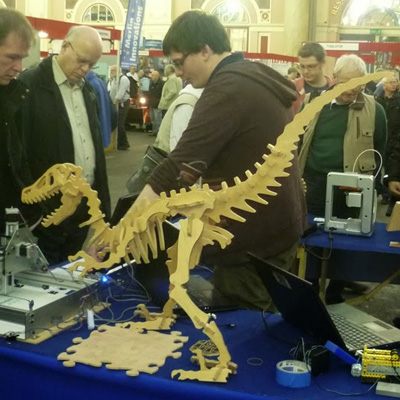 Imagineering at the London Model Engineering Exhibition 2014
We get involved in a number of charitable activities throughout the year but a particular favourite of mine is the Imagineering Foundation. For more than 10 years now I have been involved in their school clubs and annual fairs all intended to promote science and engineering in young kids through practical, hands-on, activities.
This month Adam and I put together a computer-based manufacturing display for the Imagineering zone at the London Model Engineering Exhibition at Alexandra Palace.
To try to make the basic concepts of CAD, CAM and CNC (that is already three lots of three letter abbreviations!) more accessible to the kids at the show we put together a Shapeoko kit and fitted it with a whiteboard and pen so that it could be controlled to draw pictures. The pictures we offered we made in VCarve Pro simply using zero depth profile toolpaths. We also created some custom software, rigged up to a large touch-screen monitor, so that the machine could be controlled 'free-hand' by the kids to try and draw their own pictures. Mostly the CNC won!
The shapeoko itself was controlled via an Arduino DUE running TinyG2 – an open-source gcode parser and stepper controller from the guys at Synthetos. This particular hardware and software mix is still in its early stages of development, but you can find out more of the details over on this blog, which covers conversion process and specific bits of kit that we used in much more detail.
All in all, Adam and I were kept very busy for the full three days of the show and I hope we helped to answer lots of peoples' questions about the technology and successfully demonstrated its potential. We also used a CNC3040 from Carving-CNC, which we actually bought on ebay in the UK for about £500 to show some actual cutting. I also retrofitted this machine with a similar TinyG & Arduino combo to improve the ease of use for inexperienced or young machinists. We wanted to show the inherent flexibility of CNC, so we had lots of different materials, including PCB, woods, resins, jewellers carving wax (for casting), sheet brass and sheet aluminium. The most popular sample, however, was the Minecraft mug mat – designed in VCarve Pro by Lewis, aged 11 – and cut from 2.6mm MDF using a simple 3mm End mill.