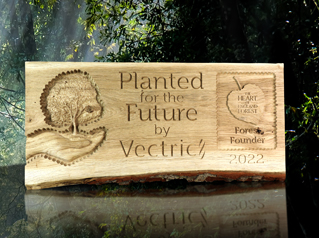 Planting and protecting a 30,000 acre forest...that is our pledge.
We are proud to announce that we have teamed up with The Heart of England Forest charity in order to help reshape and reverse centuries of woodland decline and create and conserve a magnificent 30,000 acre broadleaf forest for the benefit of the environment, wildlife and people.
As a Forest Founder sponsor, we hope to deliver a significant and lasting impact on the environment around us.
Working together with the Heart of England Forest we will help plant thousands of new trees, reshaping and creating acres of new woodlands and maintain and manage the growing forests.
Managing Director, Edward Powell, explained his thoughts on this exciting partnership;
"Woodland is a huge part of our growing business and our staff are excited to get outdoors and start making a difference. Supporting The Heart of England Forest charity was a very easy decision for us as the work they are doing surrounds the Vectric HQ in Warwickshire and their goals correlate very closely to our environmental objectives as a company."
As well as our donation, over the next 12 months, our team will be embarking on a mission to spend at least one day a month planting trees and maintaining the forest around us. We'll be making use of the tools we have at our disposal, to make projects to educate and inspire those around us to get involved with planting and maintaining the forest; as well as projects that will help with the conservation of wildlife in the area such as bird and bat boxes, insect homes and more.
We would love to hear about the things you're doing to help the environment around you or to hear your ideas for projects we could create. Simply send your thoughts to online@vectric.com.
Learn more about the Heart of England Forest's work here: Heart of England Forest