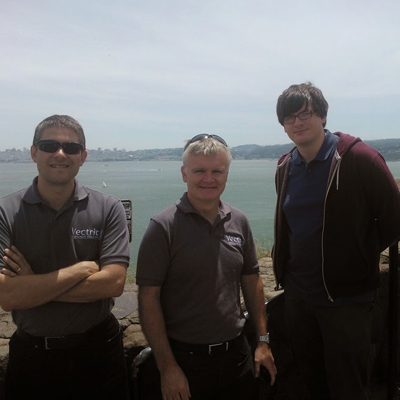 Vectricians @ MakerCon 2014
Brian, Adam and I are currently in sunny San Francisco for the inaugural MakerCon – a maker conference in advance of the Bay Area Maker Faire. We've had lots of interesting discussion, learned of some intriguing new product launches and, most importantly, met lots of great people – many of whom turned out to be Vectric customers..
Autodesk unveiled their own entrant to the 3D printer market, while PrintrBot (a low-cost 3D printer company) will be launching a CNC machine! Inventibles CEO, Zach Kaplan, announced that they will donate 52 Shapoko CNC machines to public makerspaces in the US (one per state).
We also visited a local Techshop, where lots of people are able to access a fantastic range of tools and machinery (including several ShopBot CNC machines running VCarve Pro) via membership scheme, much like a gym or health club.
Now we're off to set up for the Maker Faire, where our friends at ShopBot have kindly lent us a corner of their stand and a couple of machines to have some fun cutting cool projects and testing a few new software ideas. Hopefully meet some of you there…