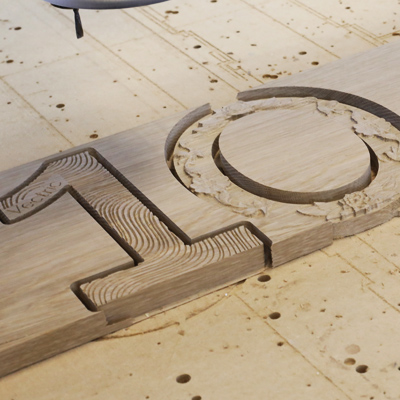 We're delighted to announce the release of V10!
Version 10 is out now, Version 10 has some impressive enhancements to existing features, as well as some exciting brand-new features.
Version 10 is a free upgrade to anyone who has purchased v9.5 within 12 months of the V10 release date and to anyone who has upgraded to V9.5 within 3 months of the release date. Your free upgrade will have been credited to your V&Co account automatically. If you are not entitled to a free upgrade you can purchase the upgrade to version 10.
To download your free upgrade or to purchase a paid upgrade please login to your V&Co customer account: https://portal.vectric.com/

Videos demonstrating all the new features can be found here: https://www.youtube.com/user/Vectric/search?query=whats+new

Version 10 has some impressive enhancements to existing features, as well as some exciting brand-new features including;
• Enhanced 2D Drawing - Intuitively drag multiple vectors and spans to quickly manipulate vectors.
• Node Editing - Can now be performed on multiple vectors at the same time for quicker editing.
• Welding Text - The welding tool now intelligently welds overlapping text, keeping all the internal regions of the text.
• Dynamic Text on a Curve - When text is placed on a curve, its anchor can be freely moved, rather than being limited to the standard three predefined locations.
• Bitmap Improvements - Directly rotate bitmap images using the rotation handles on the corner of the image.
• Photo VCarving – Effortlessly convert photographs and images into toolpaths producing stylised engraved designs. (VCarve & Aspire only)
• Tool Database - The updated tool database makes naming and storing, machines, materials and tools easier.
• Multiple Clearance Tools - The VCarve toolpath supports multiple clearance tools for more efficient area clearance. This can help reduce machining time and tool wear. (VCarve & Aspire only)
• Improved Nesting - See all the outer boundaries and outlines for parts, and nest on both sides. (Cut2D Pro, VCarve Pro and Aspire Only)
• Level Clipping - Constrain a model to a chosen boundary and dynamically clip the contents. (VCarve & Aspire only)
• Lithophane Preview - Easily preview the lithophane effect on simulated toolpaths with lithophane preview mode. (VCarve & Aspire only)
• Sculpting Presets & Overlays - Overlay reference artwork and use preset values to sculpt with ease. (Aspire Only)
• New 2D Vector Clipart - We have added over 40 new pieces of 2D clipart to help you get started with a range of projects including; game layouts, moulding profiles for use with the moulding toolpath, vector rotary profiles that you can use to model spindles in a rotary job and a selection of stylized words which would be perfect for VCarving.
• Free 3D Clipart - Choose one free clipart pack worth $55 courtesy of Design&Make. At this time, take advantage of a one-time opportunity to purchase one of the four collections available at a discounted price. (VCarve & Aspire only)
• Integrated Help - Help for all forms can now be found using the integrated help function, which can be found if you click on the question mark icon on the top of each form to get the help for that specific function.

Everyone running v9 or v9.5 on a computer with internet access will see an update notification in the top right-hand corner of its main window. Simply click on the notification link, log in to your V&Co account and checkout the latest V10 features.

If you run your software on a computer without internet access, you can still access your account and download version 10 from any other internet enabled computer by visiting the V&Co site directly using your web browser - https://portal.vectric.com/

Please note: V10 is a complete installation that will install alongside and independently of your existing software. Once you've installed V10, your previous version will still be available so make sure you are running the latest version by checking the text in the main window title bar (top-left). As soon as you are happy with your update, you can go ahead and uninstall your previous version.

Forgotten your V&Co password?
Just follow the forgotten password link under password entry box on the V&Co login page to reset it.

Forgotten your V&Co username?
This is usually the email address you registered with us when you first purchased your software. If you're still not sure, follow the link to email support and we can help you get back up and running.

Enjoy V10 from everyone at Vectric