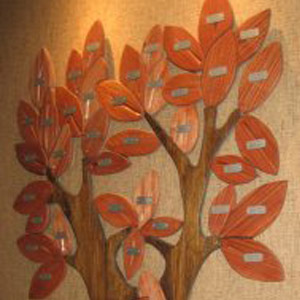 Case Study - Extreme Makeover: Home Edition
In the spring of 2006 Paul Zank checked his voicemail and found a message from Ty Pennington from Extreme Makeover: Home Edition. (Extreme Makeover : Home Edition is a prime time television show on the ABC network in the US.) "Hi Paul. This is Ty Pennington and I was wondering if you would ...." Ty had a pair of interior doors to his "SECRET PROJECT" that needed to be carved.
Ty called Paul because he knew he'd just installed a new CNC ShopBot router, and Ty owns a similar machine which is run by his long time friend Rob Williams. Rob had designed an original door panel for an Extreme Makeover project but if he cut the doors they would have to be shipped from his shop in Atlanta to New York on a very tight schedule. Further, Paul's newer router would be capable of cutting the doors much faster than Ty's older machine, so he agreed to make the door patterns from Rob's cut file.
Paul's story begins on a Friday;

"I drove to the Arena house in Somers, NY to pick up the doors, the same day the old house was being demolished. When the doors arrived, Big D (the lead carpenter for the show) discovered that the doors that had been delivered were not solid wood; instead, they were solid core. (They were veneer clad core and we didn't know what the core was). Since this was Ty's 'Secret project', Big D had asked Ty to come over and discuss the problem. If we used the doors that were delivered, the current design would completely remove the veneer and expose the unknown core material."
"Ty is a highly accomplished carpenter in his own right and we discussed several options but the best option was for the show's producers to find solid wood doors and get them to me in time to cut them. I left the Arena house with the solid core doors just in case the design producers could not get the solid wood doors. "
"On the Saturday, I received an email from the shows lead artist, Nancy Hadley, asking about a sample that I had left with the design producers on Friday. She asked if it would be possible to design and cut large appliqués from a picture she had attached. Since I was idle waiting for the solid doors, I agreed to make the appliqués."
"I had purchased VCarve Pro a couple of weeks before and this was going to be my first project using it."
I emailed several VCarve Pro previews to Nancy as we refined the design.
Nancy decided on 1.5" thick carvings without a frame and that became the target design.
Meanwhile, back at the Arena, the producers discovered that it was going to be impossible to source solid wood doors over the weekend. After many calls and emails with the producers, Paul sensed a growing panic and on Sunday morning he started to redesign the door pattern to keep almost all of the veneer on the solid core doors while trying to maintain the same overall look.
Once again realistic high quality 3D previews from VCarve Pro played a critical role as Paul refined the design. He spent hours designing and emailing new preview options to the producers who were on-site. And while he was designing the doors, his Shopbot was busy cutting Nancy's appliqués.
Finally, they all agreed on a pattern which would minimize cutting through the cladding on the door and look similar to Rob's original design.

"This Extreme Makeover project had turned into a prime candidate for disaster - a new machine, new software, a novice operator (me!) and a three day deadline. Anything and everything could go wrong. There were no backups left for anything."
Paul delivered the doors and two pairs of appliqués on Tuesday about noon. (By this time the exterior of the new house was completely done!) When Big D stained the doors, the particle board core of the door sucked up much more of the stain than the veneer did. It made the doors look like they were stained with two different but coordinated stains and they looked great! Nancy used the appliqués on the backs of the doors and on the walls in the nursery (Ty's "SECRET PROJECT").
"Big D was happy, Nancy was happy, the producers were happy, Ty was happy, and I ... I was just incredibly relieved. The pressure was off, and my first major CNC projects with the new software and machine were a success."
"The biggest single key to success was VCarve Pro's capability to create highly accurate and realistic previews. Several times the previews showed mistakes that I had made. The previews also created a comfort level for the producers because they could see what they were going to get before we cut anything."
Paul's most recent Extreme Makeover : Home Edition project involved him working with Nancy to design and carve a 'Tree of Life' for the family. This turned out to be a huge success and everyone now wants their own 'Tree'.
Paul has now worked on 8 Extreme Makeover house's including two houses in one week. When asked why he volunteers his time and effort Paul said "When I was small, we were poor … very poor. Many people helped us. I am simply paying back."
The next season of EM:HE has just started and I'm sure there'll be another call … "Hi Paul. This is Ty. We are in the area and I was wondering if …. "
Other EM:HE projects Paul has worked on.