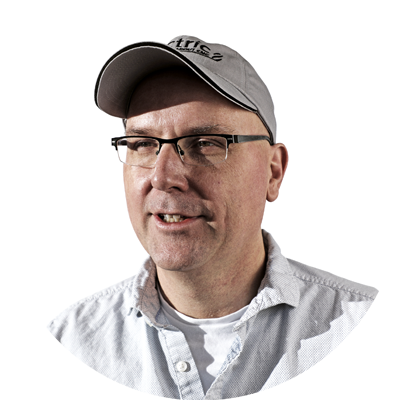 Emoji Stand and Pencil Holder
Welcome to the Labs sessions!
Here at Vectric we all love to make stuff, so we thought we would share our inspiration, designs and the CNC process with our community by sharing the projects we make.
Each project comes with its own video for you to watch that tells the story of what we're making from start to finish. Including technical software footage, machining the parts in the Labs, finishing the projects and we'll even throw a few tips in based on our experiences.
Each project comes with the file(s) for you to download, along with a PDF document that highlights some of the key important steps to help you get through your project.
Go ahead and try out one of the projects out for yourself and share what you have made on the Vectric Forum!
Happy Making!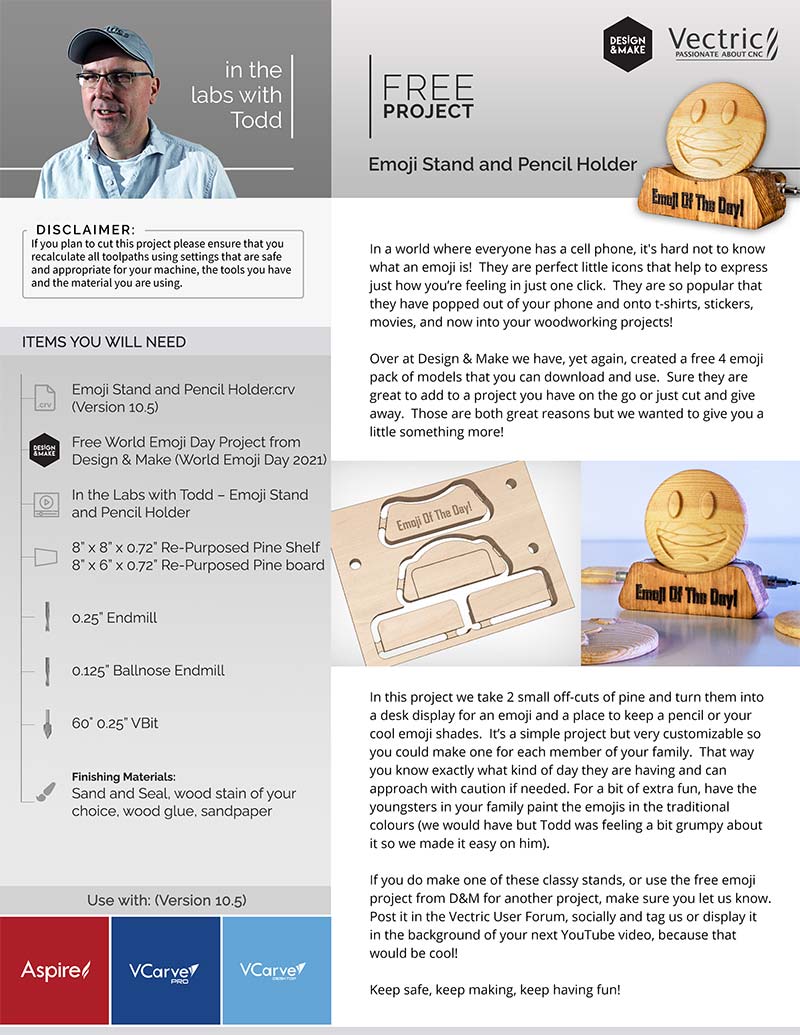 In a world where everyone has a cell phone, it's hard not to know what an emoji is! They are perfect little icons that help to express just how you're feeling in just one click. They are so popular that they have popped out of your phone and onto t-shirts, stickers, movies, and now into your woodworking projects!
Over at Design & Make we have, yet again, created a free 4 emoji pack of models that you can download and use. Sure they are great to add to a project you have on the go or just cut and give away. Those are both great reasons but we wanted to give you a little something more!
To get a hold of the FREE emoji clipart pack head over to https://store.designandmake.com/search/search?q=WORLDEMOJIDAY where you can sign up and get your models right away!
In this project we take 2 small off-cuts of pine and turn them into a desk display for an emoji and a place to keep a pencil or your cool emoji shades. It's a simple project but very customizable so you could make one for each member of your family. That way you know exactly what kind of day they are having and can approach with caution if needed. For a bit of extra fun, have the youngsters in your family paint the emojis in the traditional colours (we would have but Todd was feeling a bit grumpy about it so we made it easy on him).
If you do make one of these classy stands, or use the free emoji project from D&M for another project, make sure you let us know. Post it in the Vectric User Forum, socially and tag us or display it in the background of your next YouTube video, because that would be cool!
Keep safe, keep making, keep having fun!
Which Vectric software do I need to be able to open the free project files?



Versions 10.5+ of the software
We've recently updated your V&CO portal account to include all of the free content available to you in one place. To download the free project files and the full instructions for this project or to take a look at all of the other free content available to you simply login to your V&CO account below: