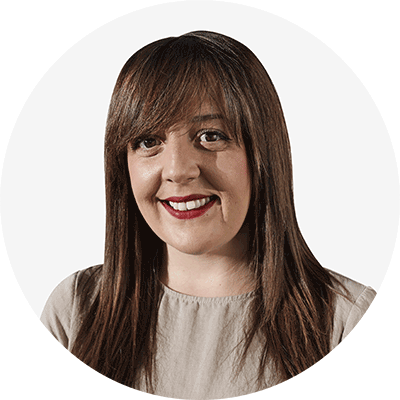 Laptop Stand
Welcome to the Labs sessions! I'm Beki, a Senior Application Engineer for Vectric. I love to make and I am here to provide you with a FREE monthly project that you can download and cut for yourself!
Each project comes with its own video for you to watch that tells the story of what I am making from start to finish. Including technical software footage, machining the parts in the Labs, finishing the projects and I'll throw a few tips in based on my experience! Each project comes with the file(s) for you to download from your V&CO account, along with a PDF document that highlights some of the key important steps to help you get through your project. Share what you've made on the Vectric Forum.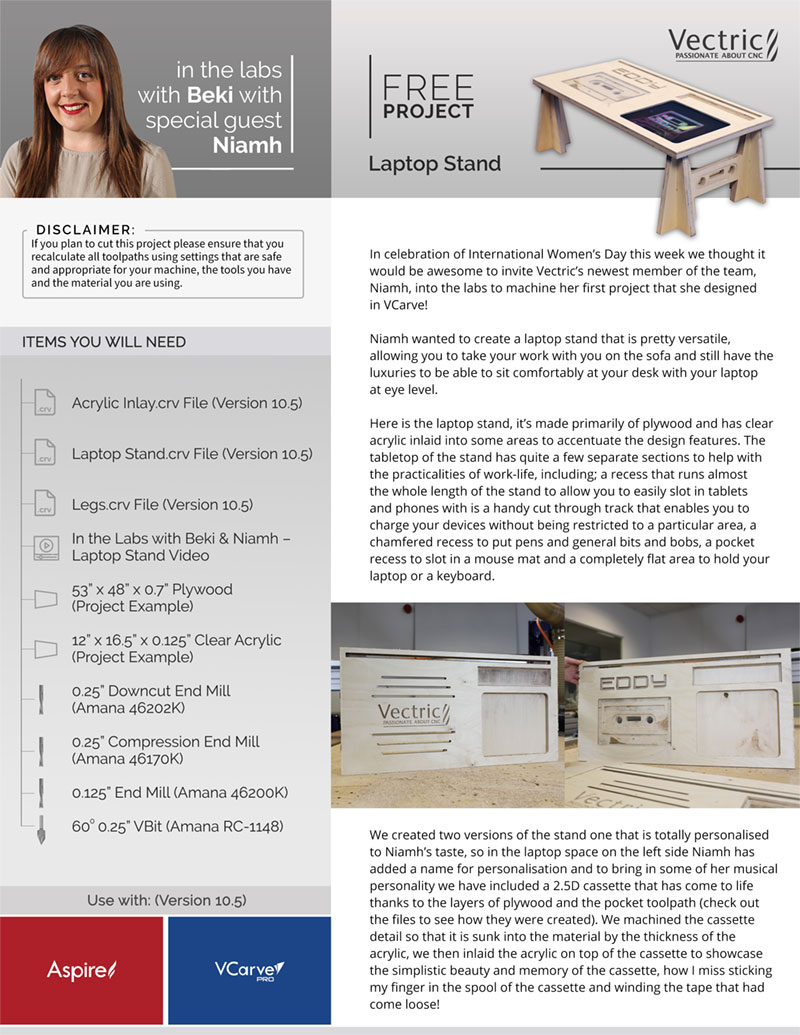 In celebration of International Women's Day this week we thought it would be awesome to invite Vectric's newest member of the team, Niamh, into the labs to machine her first project that she designed in VCarve!
Niamh wanted to create a laptop stand that is pretty versatile, allowing you to take your work with you on the sofa and still have the luxuries to be able to sit comfortably at your desk with your laptop at eye level.
Here is the laptop stand, it's made primarily of plywood and has clear acrylic inlaid into some areas to accentuate the design features. The tabletop of the stand has quite a few separate sections to help with the practicalities of work-life, including; a recess that runs almost the whole length of the stand to allow you to easily slot in tablets and phones with is a handy cut through track that enables you to charge your devices without being restricted to a particular area, a chamfered recess to put pens and general bits and bobs, a pocket recess to slot in a mouse mat and a completely flat area to hold your laptop or a keyboard.
We created two versions of the stand one that is totally personalised to Niamh's taste, so in the laptop space on the left side Niamh has added a name for personalisation and to bring in some of her musical personality we have included a 2.5D cassette that has come to life thanks to the layers of plywood and the pocket toolpath (check out the files to see how they were created). We machined the cassette detail so that it is sunk into the material by the thickness of the acrylic, we then inlaid the acrylic on top of the cassette to showcase the simplistic beauty and memory of the cassette, how I miss sticking my finger in the spool of the cassette and winding the tape that had come loose!
For the Vectric versions we simply have the Vectric logo v-carved into the centre of the left-hand side with some cut through detail for decoration and to help with the airflow.
Both stands are raised up with legs that slot together and into the underside of the laptop stand. We went for a rocket base style for the Vectric stand (trapeze-like shape) and extended the cassette theme to the legs for Niamh's. In order to keep the design consistent, we also inlaid acrylic into these areas also and we think they look great!
Overall the laptop stand measures 26" x 13" x 8".
If you fancy having a go at this project take a look at the video and take some time to look at the files too. There are quite a few toolpaths to review, we have organized them by tools and ultimately merged them for convenience when machining. As this project involves slotting parts together along with inlays please make sure you have a test area to ensure all of your tolerances are correct for the material and tools you are using.
We hope you enjoy making this project, we would love to see your version of this laptop desk project so please make sure to tag us across our social media channels or upload images of your project to the Vectric forum!
Happy Making!
Beki & Niamh
which Vectric software do i need to be able to open the free project files?


Versions 10.5+ of the software
We've recently updated your V&CO portal account to include all of the free content available to you in one place. To download the free project files and the full instructions for this project or to take a look at all of the other free content available to you simply login to your V&CO account below: