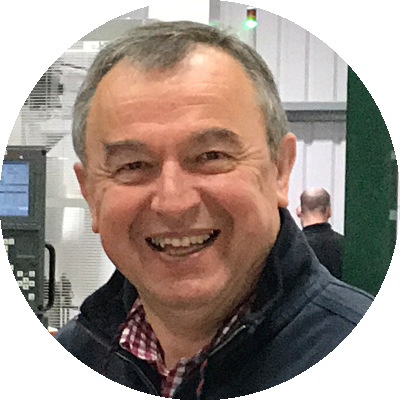 Shoehorn Challenge
Welcome to the Labs sessions!
Here at Vectric we all love to make stuff, so we thought we would share our inspiration, designs and the CNC process with our community by sharing the projects we make.
Each project comes with its own video for you to watch that tells the story of what we're making from start to finish. Including technical software footage, machining the parts in the Labs, finishing the projects and we'll even throw a few tips in based on our experiences.
Each project comes with the file(s) for you to download, along with a PDF document that highlights some of the key important steps to help you get through your project.
Go ahead and try out one of the projects out for yourself and share what you have made on the Vectric Forum!
Happy Making!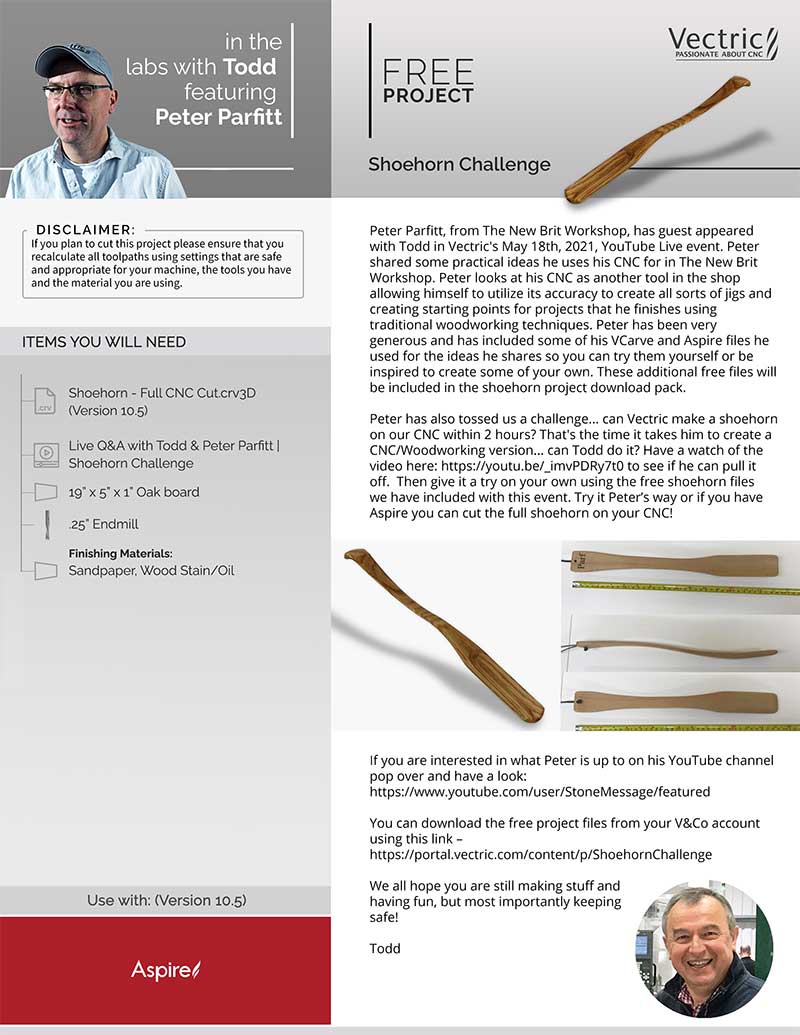 Peter Parfitt, from The New Brit Workshop, has guest appeared with Todd in Vectric's May 18th, 2021, YouTube Live event. Peter shared some practical ideas he uses his CNC for in The New Brit Workshop. Peter looks at his CNC as another tool in the shop allowing himself to utilize its accuracy to create all sorts of jigs and creating starting points for projects that he finishes using traditional woodworking techniques. Peter has been very generous and has included some of his VCarve and Aspire files he used for the ideas he shares so you can try them yourself or be inspired to create some of your own. These additional free files will be included in the shoehorn project download pack.
Peter has also tossed us a challenge... can Vectric make a shoehorn on our CNC within 2 hours? That's the time it takes him to create a CNC/Woodworking version... can Todd do it? Have a watch of the video to see if he can pull it off. Then give it a try on your own using the free shoehorn files we have included with this event. Try it Peter's way or if you have Aspire you can cut the full shoehorn on your CNC!
If you are interested in what Peter is up to on his YouTube channel pop over and have a look! https://www.youtube.com/channel/UCYwsgA-ZhDGHUCb4YFG00xQ
We all hope you are still making stuff and having fun, but most importantly keeping safe!
Todd
which Vectric software do i need to be able to open the free project files?

Versions 10.5+ of the software
We've recently updated your V&CO portal account to include all of the free content available to you in one place. To download the free project files and the full instructions for this project or to take a look at all of the other free content available to you simply login to your V&CO account below: