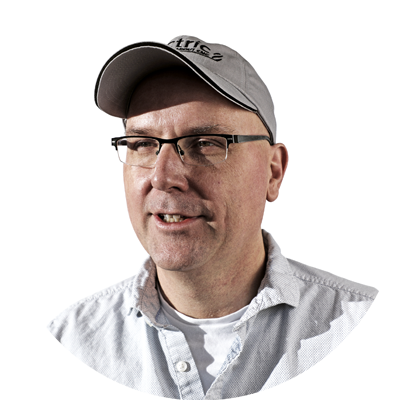 Wooden Headphone Stand
Welcome to the Labs sessions!
Here at Vectric we all love to make stuff, so we thought we would share our inspiration, designs and the CNC process with our community by sharing the projects we make.
Each project comes with its own video for you to watch that tells the story of what we're making from start to finish. Including technical software footage, machining the parts in the Labs, finishing the projects and we'll even throw a few tips in based on our experiences.
Each project comes with the file(s) for you to download, along with a PDF document that highlights some of the key important steps to help you get through your project.
Go ahead and try out one of the projects out for yourself and share what you have made on the Vectric Forum!
Happy Making!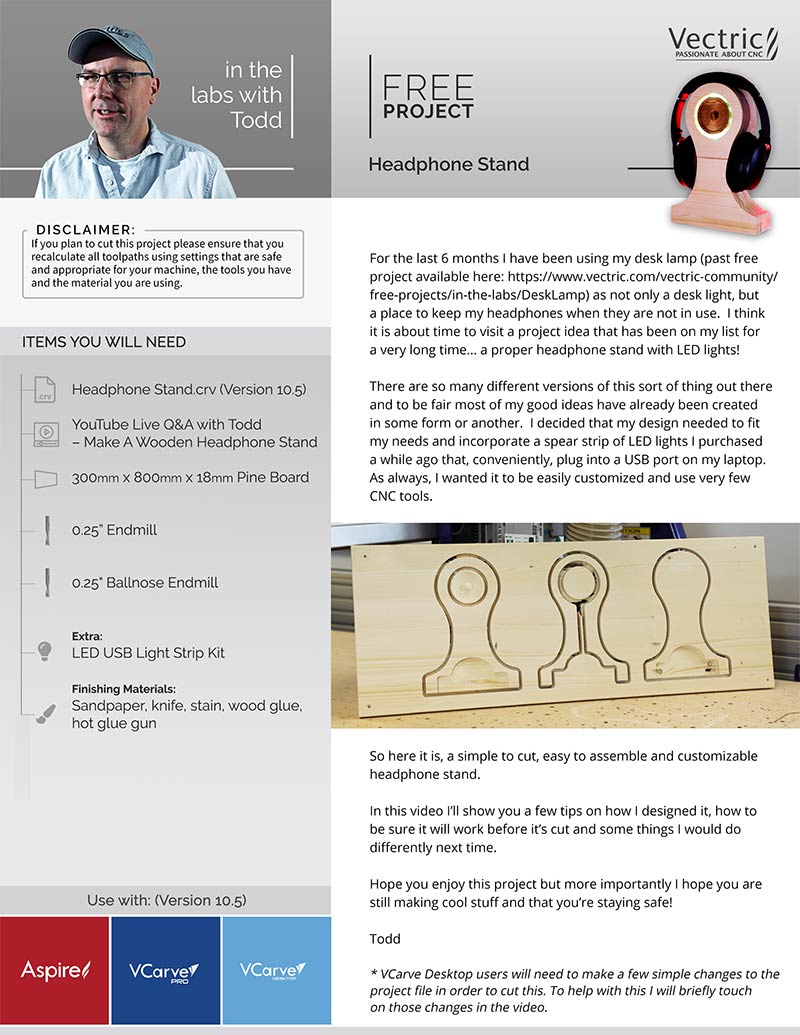 For the last 6 months I have been using my desk lamp (past free project available here: https://www.vectric.com/vectric-community/ free-projects/in-the-labs/DeskLamp) as not only a desk light but a place to keep my headphones when they are not in use. I think it is about time to visit a project idea that has been on my list for a very long time…a proper headphone stand with LED lights!
There are so many different versions of this sort of thing out there and to be fair most of my good ideas have already been created in some form or another. I decided that my design needed to fit my needs and incorporate a spear strip of LED lights I purchased a while ago that, conveniently, plug into a USB port on my laptop. As always, I wanted it to be easily customized and use very few CNC tools.
So here it is, a simple to cut, easy to assemble, and customizable headphone stand.
In this video, I'll show you a few tips on how I designed it, how to be sure it will work before it's cut and some things I would do differently next time.
Hope you enjoy this project but more importantly, I hope you are still making cool stuff and that you're staying safe!
Todd
* VCarve Desktop users will need to make a few simple changes to the project file in order to cut this. To help with this I will briefly touch on those changes in the video.
which Vectric software do i need to be able to open the free project files?



Versions 10.5+ of the software
We've recently updated your V&CO portal account to include all of the free content available to you in one place. To download the free project files and the full instructions for this project or to take a look at all of the other free content available to you simply login to your V&CO account below: