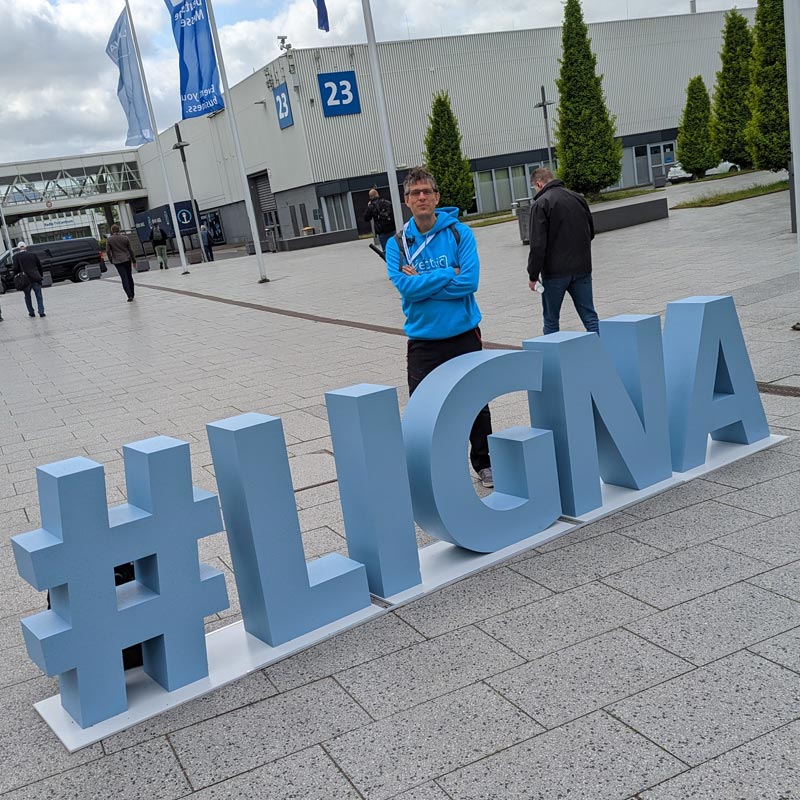 Ligna 2023
The highly anticipated LIGNA woodworking show was back after a four year hiatus with tens of thousands of industry professionals descending on Hanover eager to get the low down on latest innovations and inspiration as well as catch up on news affecting the European woodworking, wood processing and furniture making communities. Germany is the benchmark for the industrial sector so it's no surprise that over 80,000 trade visitors from 160 countries and 1,300 exhibitors from 50 countries gathered together to find out about smart machines and resource-saving production processes plus the latest megatrends of sustainability and digitization.
LIGNA ran for five days from 15th to 19th May 2023 at Messe Hanover in Germany and with an impressive 60% of visitors from outside Germany, the show exceeded all expectations and secured its place as the world summit for the woodworking industry. The full range of supply chain was on display from woodworking machinery and equipment to tools and work processes aimed at large format furniture production and cabinetry, plus industrial robots and even exoskeletons to support experts from the skilled trades and forestry. As well as woodworking transformation and green materials processing, there was strong demand for prefabricated building processes, automation and process-optimizing solutions to cushion the impact of the shortage of skilled workers.
Vectric are passionate about supporting our fellow woodworkers and cabinet makers and we were extremely proud to support all our CNC partners at the show including new sign-up CNC Holzfraese Axolox, joining our network of over 350 Vectric authorized resellers who support our 100,000+ customers around the world. We were delighted to catch up with so many of our partners who were exhibiting in various halls around the show, and enjoyed seeing their latest technology and exploring more partnership working opportunities. Amongst those present were Felder, Opus, Velox and Startech, and trailblazing the show in our new blue and yellow branding were Edward and Todd who welcomed many of our customers and a steady flow of prospects keen to learn more about using CNC technology to automate their furniture making and woodworking processes to add innovative tools to their craft.
The industry's tenacious spirit shone through as it tackles the challenges of remaining competitive whilst moving towards more sustainable production processes. Machine displays showed a trend towards processing mixed materials including wood, glass, plastics and composite materials, reflecting the increasing need to use a wider range of materials to support expanding product portfolios. The perfect addition to the fair were a series of knowledge transfer activities including conferences, live presentations, special displays and awards ceremonies with over 90 speakers presenting the latest market developments and trends. A key theme was the importance of wood as a renewable resource and its role in the overall decarbonization process, showing that timber construction is becoming increasingly important and opening up new market opportunities for mechanical engineering.
Everyone enjoyed sharing their news and views on the worldwide woodworking scene, and what a fantastic show it was for helping the chips fly for everyone who enjoys planing, sawing, grinding, and milling! We would like to extend a huge thank you once again to CNC Holzfraese for welcoming us to their stand, and we look forward to being part of another busy LIGNA from 26-30 May 2025!