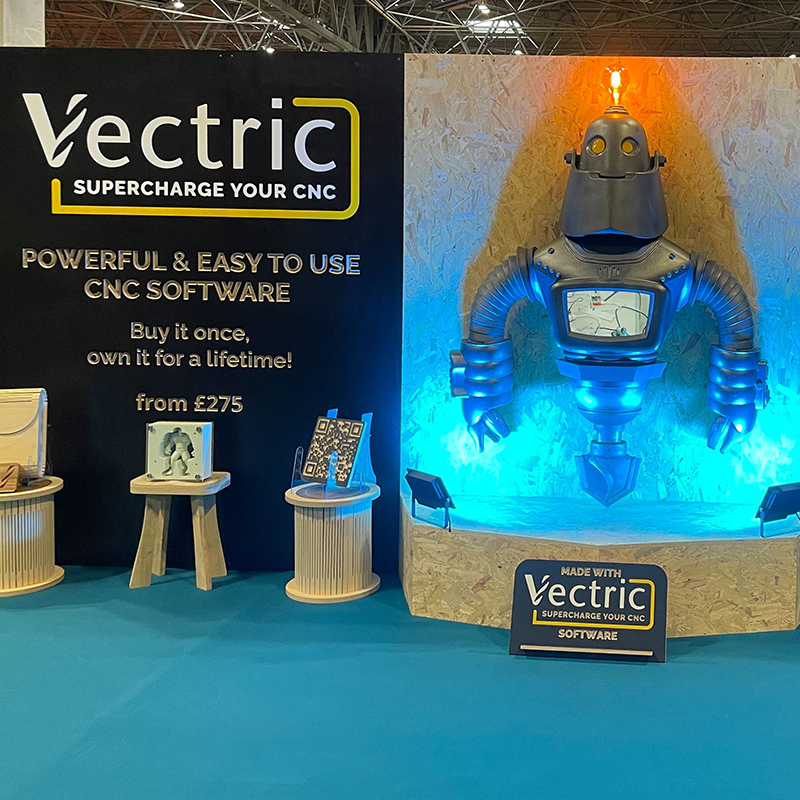 Makers Central 2023
Makers Central was back with a bang welcoming thousands of makers to celebrate all things creative, and what another incredible show it was! The weekend was packed full of enthusiastic crafters, inventors, artists and hobbyists from all over the world eager to share their inspiration, infectious creativity and keenness to learn and collaborate on projects with their heroes across the maker community.
Makers Central ran from 13th to 14th May 2023 bringing a buzz to Hall 2 at the NEC Birmingham UK, and with exhibitor numbers higher than ever, everyone was super excited to catchup face-to-face again and find lots of weird and wonderful things to explore and learn about from creatives across the world's maker communities, as well as get the low down on latest news and trends, buy cool merchandise and get their hands dirty making things in the demo areas.
As headline sponsor, we were extremely proud to support Makers Central and Nick Zammeti's team who staged an incredible bumper packed programme. This year saw more than 8,000 people attend across the two days and amongst the excitement were YouTube sensations Colin Furze, Jimmy Diresta, Nick Zammeti, James Bruton, Xyla, Channel Four's Handmade Britain TV woodworkers, Frankly Built & Emily The Engineer bringing some Cosplay to the proceedings, Handmade by Alex, Morley Kert and many more hero makers and brands providing live demos and talks hosted by Kjell Otto and Dale Edwards helping spark your imagination with their top tips and inspirations. Makers and CNCers were also able to check out what's new with tooling and software from the biggest brands in the industry, and find something unique at the Makers Market with a treasure trove of independent makers to buy handmade products.
Our expert Vectricians were also on stand in a sea of yellow and blue showing how easy it is to use our Aspire, VCarve and Cut2D CNC software to make anything from home repairs and bespoke furniture to Etsy projects and arts & crafts. We also took up the challenge to design, make and build our entire stand including creating the incredible life-size Victor robot using Vectric software, just to show you that anyone can turn their creative ideas into real projects to make anything you want! Beginners and would-be enthusiasts got stuck in with making their very own personalised coasters with our handy hourly workshops, and for all those looking to upgrade their own woodworking spaces this summer, we also sponsored the Scrap Wood Competition giving makers the chance to win our world famous VCarve software plus an incredible Ooznest WorkBee CNC machine worth £2600! Our special guest James Bruton also demonstrated his robot chair showing the capabilities of VCarve for inventors and experimental engineers.
Sharing the love for stickers, we also sponsored the Sticker Wall giving visitors an art space to bring and share their stickers which was auctioned off to a lucky maker at the end of the show. Our social media meetup area gave influencers and creators with YouTube channels, TikTok, Instagram or a presence on socials their own space to hang out and chillax during the busyness. With more than 260 exhibitors, Makers Central covered almost every type of craft including wood turning, forging and other types of metal work, CNC, fabric crafts, 3D printing, furniture making, sculpting and pretty much everything else. Amongst the other companies representing CNC were our partners Ooznest, Dremel and Trend Machinery.
We would to extend a huge thank you once again to the event organisers ICHF including Nick Zammeti who did an amazing job, and we look forward to another successful Makers Central 2024!