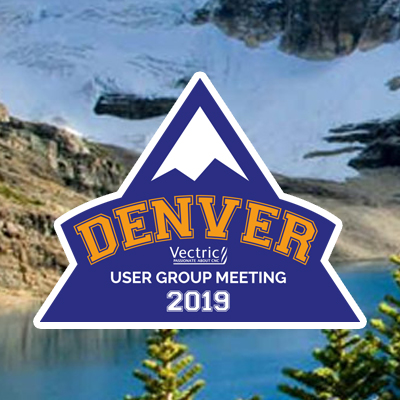 Our biggest and best User Group Meeting yet – Denver 2019!
Last month we hosted our annual User Group Meeting in an unexpectedly snowy Denver! With over 330 attendees and more than 10 partner vendors 2019 was our biggest meeting yet.
Our two-day event was packed with inspiring and informative presentations not only from members of the Vectric team but also 6 guest speakers, all of whom are passionate about the software and are using it daily.
Edward Powell, Managing Director of Vectric opened the event by giving a short introduction to the event and the Vectric team. Adam James – Technical Director followed this up with a quick-fire overview of all the new features recently released in version 10, the enhancements were very well received.
Up next was the first of our guest speakers Laney Shaughnessy of Digital Woodcarver. Laney has been teaching how to use Vectric software for many years now, check out his YouTube channel SpindleTV (https://www.youtube.com/channel/UC_S5il3WfD4TeatuKfu_50A). Laney took the audience through how to create their own decorative paravant panel using the array copy tool.
After a break and a first chance to network with the other attendees and our partners, Todd Bailey, Business Development Manager took to the stage to showcase his 3D speaker. First of all Todd took the opportunity to show the audience how 'NOT' to create a 3D speaker then drew on the successes of his project to show how everyone else can do it right first time.
Debra Crane of Woodcraft Nashville took the pre-lunch spot to walk the audience through her simple but savvy, last man standing peg game. Debra focussed on using the offset and layout tools to easily draw out an accurate design in the software, followed by some top toolpath tips.
After a long and hearty lunch, we reconvened for Beki Jeremy, Senior Application Engineer to wow the audience with her wood fashion backpack. Beki took the opportunity to push not only the boundaries of the software, but also the boundaries of the wood itself. Exploring the kerf technique, Beki created a bendy wooden backpack with inlayed decoration.
Day one ended with Todd joining us back on stage to show the new level clipping functionality released in V10 and how it can be utilised to create a variety of designs in minutes.
Day 2
Day 2 started early with Marketing Director Stephanie Dowling taking a trip down memory lane. Following a short overview of how Vectric first began and a timeline of significant events, Bill Young of ShopBot Tools and Edward joined Stephanie on stage to announce the retirement of the owner of the company, Brian Moran. After a short celebration, Edward continued by announcing the commencement of Vectric becoming an Employee owned company.
For the second presentation of the day Beki followed up by presenting some of VCarve's best kept secrets, showcasing how to really stretch the boundaries of the program when it comes to creating 3D parts.
Edward stepped in for a lastminute presentation all about the embossing tool and when to use it following the unfortunate cancellation of Eric Schimelpfenig, who couldn't attend due to a family bereavement.
After a short coffee break Adam covered 2D toolpath optimisation to create a drum, sharing many useful features to help get the job done quicker.
Jeff Hannah of All Aboard Woodworks in New York was the first of our guest speakers of Day 2. Jeff had the room's attention for the duration of his presentation on creating intricate VCarve inlays.
The post lunch slot on day two was none other than Michael Tyler's. Michael is a long time Vectric software user who has been creating our free monthly projects for longer than we can remember. Michael presented the creation of his October free project the Steampunk sleigh.
Edward returned to the stage for his last presentation of the event 'spilling the beans on text effects', walking the audience through the creation of his coffee bean sign focussing on tips and tricks to create interesting effects with text.
The final break of the event was one last chance for the attendees to speak with our partners. This year we had a room filled with key partners offering guidance and solutions to any machine tool and finishing questions our attendees had. A huge 'Thank you' to our 2019 partners including, Axiom, Avid CNC, Think and Tinker, Woodcraft, Digital Woodcarver, Nextwave Automation, ShopBot Tools, Amana, Donek Tools and Forest Scientific.
The last of our guest speakers was Randall Newcomb whose mission was to convince the audience that wrapped rotary machining was only as difficult as you make it. Randall talked through some of the projects he has made and gave some great hints and tips to some of the rotary beginners in the audience to encourage them to give it a go.
Closing the 2019 User Group Meeting was Todd Bailey with his slot together Christmas projects. Todd covered some of the pitfalls in creating slot together projects and reminded everyone that it's never too early to start your Christmas preparations!!
We would like to say a huge thank you to all of our partners and guest speakers for supporting our event, but also to all of our wonderful 2019 attendees. We enjoyed every second of the event, seeing the amazing projects, meeting all of the incredibly talented people and sharing stories. We can't wait to do it all again in 2020!
Watch this space for the upcoming announcement of next year's dates and location.
2019 Attendee comments:
We enjoyed the entire conference. Location was perfect with mass transit and restaurants. Presenters were wonderful. Great range of topics covered in great detail. Thanks Again. - Source Survey results 2019
I would like to compliment the Vectric Staff and Presenters on having the attention of everyone in the room. I think this is the quietest meeting of this size I have attended while there were presentations. My first users group and it was not disappointing. – Source Survey results 2019