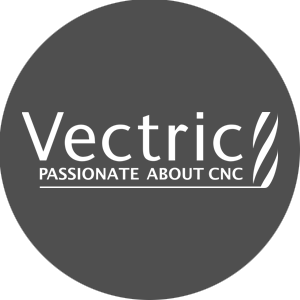 We are bursting with pride after winning 'The Queens Award for Enterprise for International Trade 2017'!
The Vectric team is based in the UK (Redditch in the West Midlands). From our head office, we develop and support a range of high quality software for CNC routing, milling and engraving.
Vectric Ltd. was founded in 2005 by Brian Moran and Tony McKenzie, who previously managed the specialist creative modelling and CNC machining software product range of a large UK CAD/CAM company. In forming Vectric, they applied more than 30 years of combined experience to create an entirely new range of software products that are quick and easy to learn, precise, self-supporting and, importantly, affordably priced.
Her Majesty the Queen has approved the Prime Minister's recommendation for Vectric to be honoured with The Queens Award for Enterprise for International Trade 2017' owing to the company's significant growth and success in export trade over the past six years. The Queen's Awards for Enterprise are for outstanding achievement by UK businesses'

Brian Moran, Managing Director of Vectric commented: "This is a fantastic achievement for everyone at Vectric, especially in this historic year as Her Majesty The Queen celebrates the sapphire anniversary of her reign. We all feel very humbled and immensely proud to have won 'The Queens Award for Enterprise in International Trade' again. It is amazing recognition and high praise for everyone at Vectric who all work so hard to provide customers with the best solution for their needs."
"We thank our loyal customers and partners for their ongoing support, without them it would not have been possible to win one of the most prestigious business awards."
The Lord-Lieutenant of the County, the Queen's local representative will visit Vectric to present the award, whilst two representatives from the company will attend a reception at the Palace later in the year.