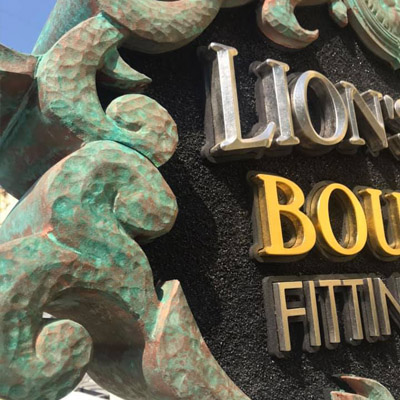 Douglas Hancock - Sign Pro Florida
At Vectric we take great pride in seeing members of our community turn their passion and creative skill into a business. This month we have a great example of this with Aspire user Douglas Hancock and his business 'Sign Pro Florida'. Douglas is a veteran in the sign industry and now has turned his focus to custom commercial signage. We were fortunate enough to be tagged in a social media post by Sign Pro Florida and this is where we saw their fantastic work. Before we let Douglas talk us through how he made this amazing sign, we wanted to know a little bit about his background…
I am a 25-plus year veteran that grew up in the sign industry (outdoor advertising). As a young man I graduated from college with a BA in Business Administration and vowed to not work in the sign industry, I wanted to do something different. Through a series of circumstances 7 years later I was back in the industry but this time with a different focus, custom commercial signage. Only in the last 10 years I have started to work with CNC's. I started by outsourcing work but once our outsource partners could not keep up with our imagination, we realized we needed to bring it in house, we have not looked back since. Currently 80%+ of the work in our shop flows our CNC at some point in production. We started using Vectric V-Carve Pro and moved up to Aspire to bring some of the 3D functionality on board.
It's clear to see that Douglas has all the knowledge, skill and experience he needs to create the most stunning signs for his clients; and this example is definitely one of his best. We'll let Douglas take it away…
The client wanted a design that would communicate they were a high-class establishment. We played around with several ideas but after the client saw a sample in our studio, we came back to traditional sign making materials, gold leaf, smaltz, and aged copper. We wanted the sign to fit within the historical district and give the appearance of a high-end sign in the early 1900's.
The body is made from #15 high density urethane foam (HDU) of various thicknesses. We used Coastal Enterprises PB-Fastset adhesive to bond the 4 layers into one monolithic piece after carving them on the CNC. The medallions were made from #34 Coastal Enterprises HDU.
I almost always start out with a sketch for our dimensional work. It is very fast to sort out design challenges with a pencil and paper over computer designing. Once the basic idea was formed, we proceeded to bring the sketch into Adobe Illustrator and hand drew the vectors that would ultimately be used to make our 3D elements. I kept all of the border elements as individual elements so they could be layered in Aspire and treat them all differently as needed. I used basic two rail sweeps, "create shape from vector" and tilt to create the model. We decided to hand carve the texture on the border to give a more realistic look and to save time. The letters and pockets were cut out using a basic 2D profile.
The lion medallion started from a reference picture that was brought into Adobe Illustrator to hand trace major elements such as eyes, nose and cheeks. I also built the vectors that would be used to make the medallion border. Once completed, the vectors were imported into Aspire to build the 3D model. The medallion border was made using a unique technique of saving the toolpath preview as a component. It is sometimes faster to create what you want this way. The border was a two-rail sweep that had a 1/16" ball nose profile toolpath projected onto the 3D model and then previewed. I saved the toolpath preview as a component and then continued to work from there creating the lions head.
The lions head was created using the "create shape from vector" function to build volume. Once the model had enough volume, I then used the sculpt tools to create the final shape. The final step was to thin the model to the desired thickness while retaining the details.
We used basic 2D machining (pocket and profile) for the majority of the piece. For these toolpaths we used Onsrud bits 52-700 and 52-703. We 3D machined the border and lion appliques. The 3D machining was accomplished using a Vortex 2215 tapered ball nose bit. All Feeds were at my machines maximum speed of 300ipm for x and y axis and 100ipm for z axis.
The HDU was primed using Coastal Enterprises FSC-88 primer/filler. We sanded that down and we were ready for paint. We sprayed our black background color using water-based Sherwin Williams all surface enamel. The copper paint was made mixing copper powder and metallic paint. We used Modern Masters acidic activator to react the copper paint and give us the patina we desired. The smaltz was adhered to the sign body using an adhesive. We gilded the letters using Luco fast size and W&B Gold LLC. palladium and 23K gold leaf. We used palladium because it would not tarnish like silver leaf. We double gilded the entire piece so it would have a deep lustre and longevity in the elements. There is something magical about the mix of metal leaf and smaltz that you cannot beat. The mix of the metal finishes really came out great and it does stand out in the signscape. If I had to do anything different, I would have integrated a more ornate bracket to match the sign. We were limited to our projection from the wall so we opted for simple.
The level of detail in Douglas's creative process really does go to show how skilled everyone at Sign Pro Florida is. The mixture and knowledge of materials enables them to push artistic boundaries and go above and beyond for their clients. We would like to take this opportunity to thank Douglas and Sign Pro Florida for taking time out of their very busy schedule to share their story and inspire us all here at Vectric. Before we let Douglas go, we had to ask him what he had planned for the future…
Besides taking over the world and everyday commercial work? We have some CNC timber framing projects as well as something very exciting for The international sign invitational design/build competition. The competition is being held in Orlando next spring at the Signs of the Times booth in the International Sign Expo. The theme of this year's competition is "less is more". If our concept can be executed as we wish it will be a real stunner. This piece is going to push what we make with our CNC and Vectric software.
For more information on this and our other fun/unique projects follow us on our Facebook Page @signproflorida.